Spring has sprung and I thought it would be fun to share my favorite nail polish colors that are perfect for this season. I have my go-to favorites that are perfect for year-round but I thought I'd mix things up and include some fun colors to add a pop of oomph to a spring wardrobe. I rarely follow a trend simply because not everything on trend is a one-size-fits-all kinda thing. If a style or color is "IN" and I happen to like it and fits my style then yeah of course I'll be sporting it. This goes for nail polish colors as well as makeup, clothes, etc. With that being said, some of these colors may be a season or two old but they are still on my favorite's list and I'll be rocking these again this season. Click on each polish name to see where you can purchase them.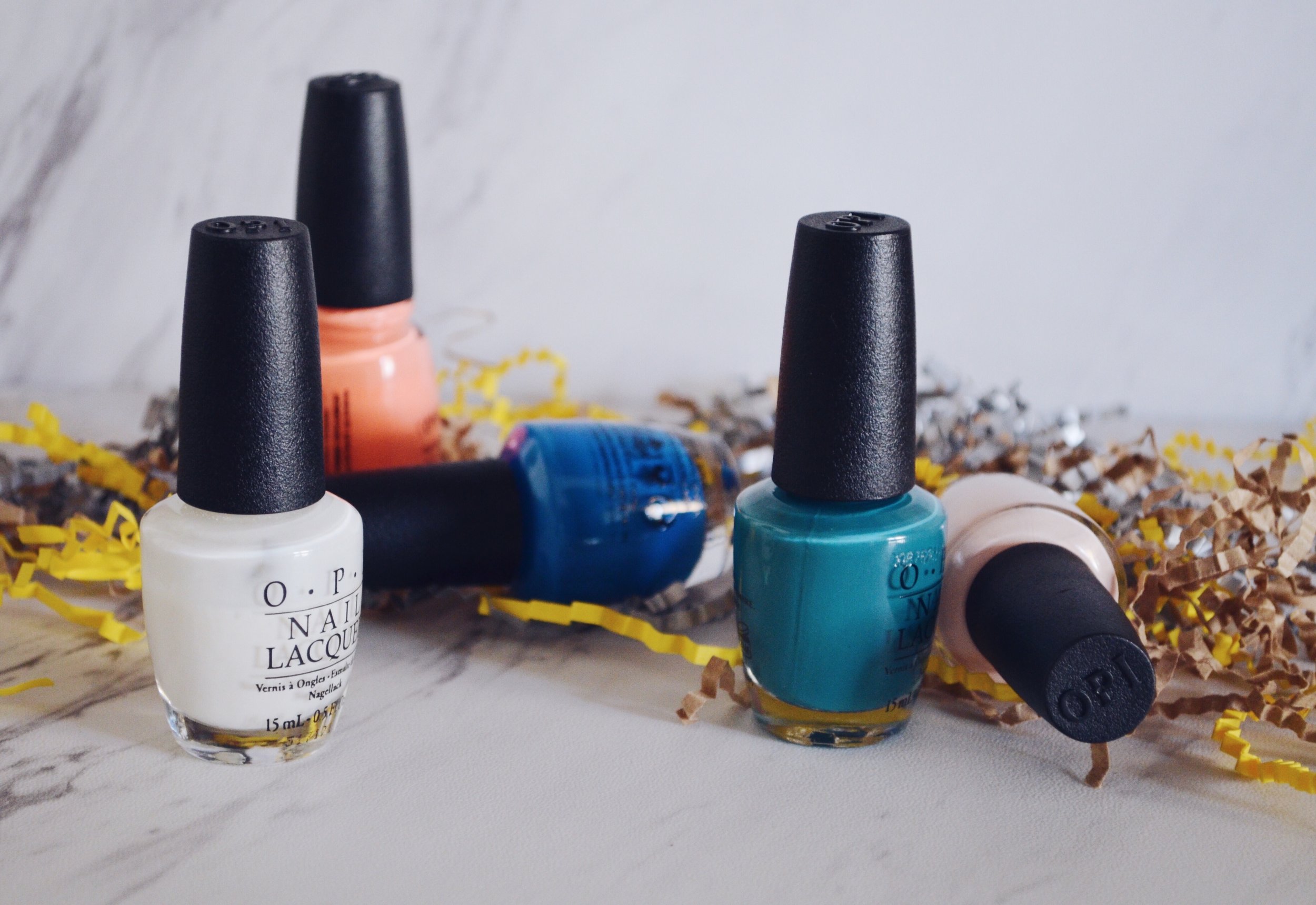 Nail Polish Colors
Here's a breakdown of the top five colors I love for spring (from left to right):
I just recently discovered this color and if you follow me on Instagram you might remember I tried this color in the car right after I bought it. I mean, c'mon - it's the perfect hue for the spring. I feel like this is going to be another Funny Bunny kinda obsession for me.
This one I've had for a little of a year. It's bright, fun, and matte when applied. So, a glossy top coat is necessary. For being very neutral when it comes to manicures, I thought I would never use this shade. But, surprisingly it's become a favorite obviously to make it on this list. It's the perfect color for the beach or poolside scene.
This is my go-to color year-round that I must include in this spring collection. Because, DUH, it's gorgeous. You can never go wrong with this shade. So classy, clean, and natural. I get this color in gel manicure a lot as well.
OMG! This greenish teal color is so gorgeous. It has a cream finish and you get a pretty well result with just two coats.
This shade of blue is so pretty and creamy. A perfect reflection of sea and sky. This color became an instant favorite for spring and I'm pretty sure I will continue rocking it throughout summer as well.
And, that's it for my favorite nail polish colors for spring.
Nail Shapes
As for nail shapes, I have often gone back and forth between squoval and round shape. I am not a fan of the other nail shapes as either they are too pointy or edgy on the corners. As a mom, it's more about comfort than style nowadays. Here is a blog post that helps you find your perfect nail shape and explains on how to achieve them or at least know the name of the different shapes to tell your nail technician next time you get them done: https://www.metdaan.com/popular-nail-shapes/.
I'd love to know what colors and shape you rock this season! Please share in the comments below.
xo,
Salpie